Negril.com - Official website from Negril, Jamaica for over 20 years!
NEGRIL TODAY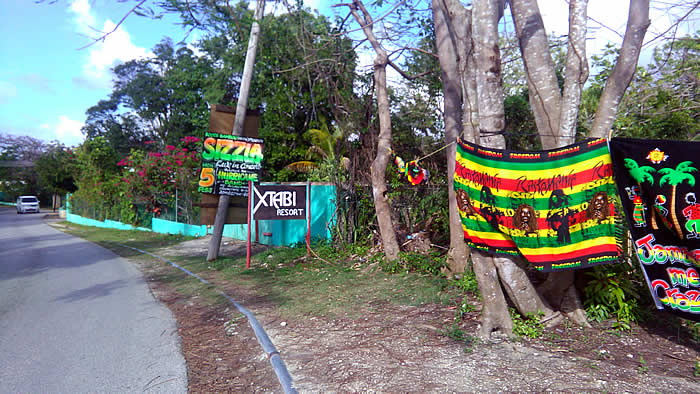 Sights on the Road
February 1st - 3rd, 2018
Walking the West End Road, there are colourful sights everywhere! Rounding the corner just past 3 Dives Jerk Centre, we were struck by this wonderful view. The wind was waving the Bob Marley and Jamaica beach towels and the painted reggae promotion for the Sizzla concert at Roots Bamboo played perfectly with the classic Xtabi Resort sign. And we hope you notice by the van in the distance that we were walking facing traffic, rule #1 for those out for a walk on the road!
To find out great thing to experience in and around Negril, please click on our Things To Do section! To find a driver to take you any where around the island, please check out the affordable transportation in our Transport section also located on our Main Menu above! To help you find your perfect places to stay, please check out our Hotels section on the Main Menu link above! To find out more about up coming events, please feel free to check out our Events Calendar!
---
WELCOME TO NEGRIL JAMAICA
Everything you need to know about Negril Jamaica brought to you for decades by the people who know Negril Jamaica the best! There is so much to find out about our Caribbean paradise! For complete information, please click on our menu. We want to thank you for visiting Negril Jamaica. Negril.com was created in 1995 to provide the best information possible to our visitors coming to Negril and Jamaica. Here you will find places to stay, places to eat, tour drivers to get you around the island, things to do, places to go and information for planning the perfect vacation! Our Negril Message Board in the Forum section is most complete source of information about Negril available anywhere on the Internet! You will also be able to find information about other destinations in Jamaica - the island has many amazing sites to see! We hope you take a bit of time to click through our different areas on Negril.com - each section has great resources to help you plan your holiday! And feel free to contact us should you have any questions at info@negril.com.
As we love to say in Jamaica, Irie!
---
BEAUTIFUL BEACHES AND MAJESTIC CLIFFS
For years the Negril's seven mile beach has been rated as one of the top ten beaches in the world by many travel magazines.The north end of the beach is home to the large, all-inclusive resorts, and to the south are the smaller, family-run boutique hotels. This combination gives the Negril area a large variety of rooms, services and prices.
South of the main Negri beach area is West End Road, known as the "cliffs", which is lined with resorts that offer more privacy. These areas offer easy access to waters good for snorkeling and diving, with jumping points reaching more than 40 feet (12 m) high. Rick's Cafe is a place to watch the cliff jumpers. They are incredible to watch.But gorgeous sunsets are not limited to Rick's Cafe - from most locations is Negril the view is unparalleled!
The fact that Negril is still underdeveloped remains a significant factor in its undoubted charm. The unspoilt, untamed and unforgetable Negril- Jamaica's jewel in the crown where our open 7 mile beach entices you to walk, to swim, to play... and to make friends. Our rugged cliff side on the West End burst into fire at sunset in the many bars and restaurants, whilst the peaceful afternoons show off the many caves and diving areas.
Negril is unique in its equal portions of beach and cliff, its numerous eccentric characters, its laid back atmosphere and its friendliness! Like the sun setting dramatically over the sea, and returning each morning, we hope that you will return after sampling the diversity that is Negril. Have a great holiday.
For Negril Medical information, please scroll to bottom of any of the main Negril.com pages.
---
Jamaica is the third largest island in the Caribbean and home to over 2.6 million people. Our beautiful island in the sun is home to the Blue Mountain range and is surrounded by a narrow coastal plain. Most major towns and cities are located on the coast. Chief towns and cities include the capital Kingston, Spanish Town, Mandeville, Ocho Rios, Port Antonio and Montego Bay. Its indigenous Arawakan speaking Taino inhabitants named the island Xaymaca, meaning the "Land of Wood and Water". It later became a colony of Great Britain and became an independent country in 1962.
Modern Jamaica is just as you imagined a tropical island to be. It has stunning white beaches, lush foliage and tropical weather all year round. Jamaica also has remarkable arts and cuisine and a rich cultural heritage. It boasts the best golf courses in the West Indies and its contribution to the world of sports is impressive considering its small size. It caters to everyone from beach bums to newly weds to the high end traveller.


Jamaica is intense in its beauty and its people and will leave a lasting impression. Come discover the country of rum, reggae and Bob Marley. Of sun drenched beaches and warm tropical breezes.
---
Getting around in Negril is an easy thing. Negril is separated into the West End (cliffs) or Beach (Norman Manley Boulevard) where your fair share of restaraunts and hotels lie. Walk about as the atmosphere is relaxed and meeting people is part of the experience. Just remember driving is on the left side in JA, so you must walk on your right (same side of the road) in order to see traffic coming towards you. The taxis are inexpensive and plentiful so if walking is not your pleasure then grab a taxi (always negotiate your fare before riding) and get about seeing the sights.
Please remember that the only legal taxis have red license plates. They are legally licensed and insured to carry paying passenger.
---